freshwater basins
advanced knowledge about inland waters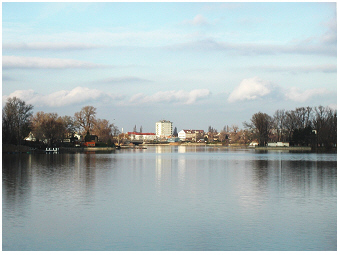 My website is about freshwater environments such as lakes, streams and rivers, which I have mainly selected from Europe and Asia. Some of these freshwaters are popular places for holidaymakers and are hence most relevant for tourism. Others are important for navigation and other economic activity. Some depicted freshwaters are just small ponds and represent the plentiful small aquatic locations found in our landscape. A gallery of photos showing views of the countryside and a general introduction is given for each lake and river. In addition, a popular science description highlights the key role of the microscopic primary producers in the illustrated freshwaters. These microorganisms are algae and cyanobacteria floating in the water column or living attached to stones on the shore area. The interaction of these microorganisms with their environment, the control of their growth by nutrients in view of eutrophication or restoration, or the effect of climate change are some issues dealt with on this website. These topics are discussed for the lakes and rivers but also for artificial water bodies such as designed wildlife ponds and 'natural' swimming ponds in gardens. Pictures show the water coloured by algae and cyanobacteria, as you would find it visiting a lake or river. Beside these overall views, many of these microorganisms are also shown microscopically. For some pages, a short essay is inserted in the text flow. They provide a personal view and relate to the visit to the waters or to conversations with people met there. The writing style in these sections is different from the other paragraphs. They are announced with 'Listening To People', and the letters are marked in blue colour.
When was the last time you visited your favourite pond or stream? Let's talk about lakes and rivers! So whether you are a nature lover, gardener, landscape planner or biologist, whatever your perspective on aquatic habitats is, enjoy visiting my website!
content of this website
Preface: Waters are habitats!
Deep Lakes
Ammersee: The lake is in synchrony with other lakes.
Attersee: The reference ecosystem for the lakes in the Salzkammergut district in Austria.
Hallsteatter See: A deep salt mining lake surrounded by prehistoric Hallstatt and Celtic culture.
Mondsee: The most well-studied deep alpine lake in the Salzkammergut district.
Traunsee: The most deep and second largest lake in Austria has a relative short retention time.
Shallow lakes
Old Danube / Alte Donau: Restoration of an oxbow lake.
Dianchi: The green jade water color.
Grosser Mueggelsee: The perfect lake.
Poyang: Two seasonal scenes of an ecosystem - the river and the lake.
Taihu: A large, shallow and turbid lake.
Ponds
Bergknappweiher: The four seasons.
Biotop Auersthal: From a reservoir for flood control to a hotspot of urban wildlife.
Designed water retention basins: Natural swimming ponds and wildlife ponds.

Rivers and streams
Danube: The river and its main tributaries connect many European countries.
Shennong Xi: A mountain tributary of the Yangtze river.
Yangtze River: The turbid water impresses with its yellow-brown color.
Yichang, Huangbai stream: Traditional lift net operated on the fisher boat.
Laboratory Views: From the water-sampling in the field to the lab.